Our design collections
Let's work together
The process
.01
choosing a design
Browse our website and find the style that speaks to you or choose to have a consultation with us, whether via phone or in person
.02
fill out the form
Fill out the inquiry form on our website, to provide specifics about your stationery needs. Nothing is set in stone so don't worry about changing something later
.03
deposit
A proposal contract will be sent to you, outlining the details of the order, quantities, materials, and total cost.
A deposit fee is required at this stage to book your spot.
.04
proofing
Now that we are legal, we will be working on one (or more) ideas and mock ups for your project. The proofing will continue until you are 100% happy with your proofs
.05
hard copy
Seeing is believing!
For this reason once your digital proofs are unofficially approved, we will work on a hard copy sample for you to review and approve.
.06
approval
Once you are ready to proceed with the order, you will be required to pay the final balance, and a sign-off contract will be sent to you to sign off your proofs for production.
.07
production
We will now order the
materials and supplies for your order and we will
produce the order in the
materials and quantities you requested.
.08
shipping
Your order will be shipped to you (we can also schedule a pick up). You will then be mailing your invitations to your guests.
Customization options
make it yours
Our design collection includes hundreds or carefully curated designs, which can be completely customized in wording, printing color and artwork color.
Each one of our designs is based off one of our layouts (panel, layered, vellum, laser cut, pockets and passports) and depending on the design, will include one or more featured embellishments.
Other details such as envelope liners, ribbon and laser cut color can also be customized (additional fees may apply).
Envelopes and layers colors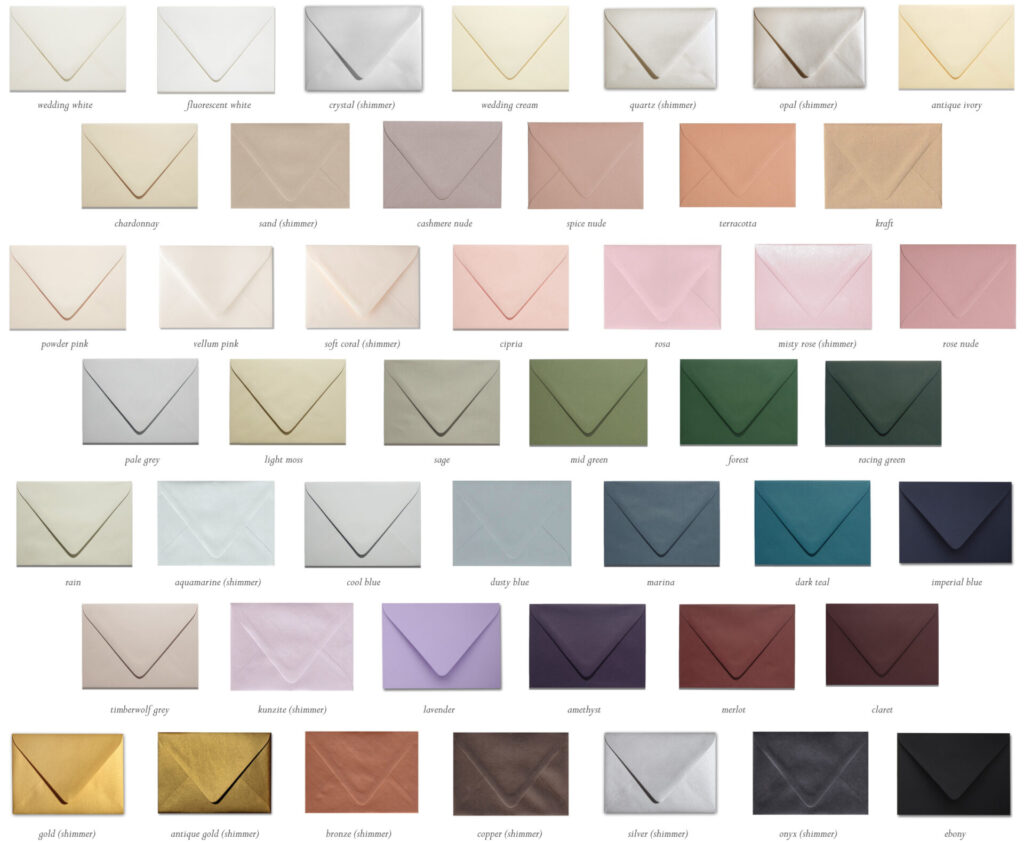 wax seal colors/styles

classic cursive
-included in the cost in our featured colors-

elegant handwriting
-included in the cost in our featured colors-

motifs
-included in the cost in our featured colors-
CUSTOM INITIALS AND MONOGRAMS
-additional fees apply, starting at +1.50/ea-