Our collection of wedding invitation suites include many different styles, formats and colors. Get inspired and find the perfect layout for you, and don't forget that everything is 100% customizable. From printing, to color choices, to fonts, everything can be created matching your vision. When searching for the perfect invitation suite, we always recommend starting from the layout of choice (vellum, lasercut, pocket folder, rather than flat or all in one or any of our specialty) and then explore options and details.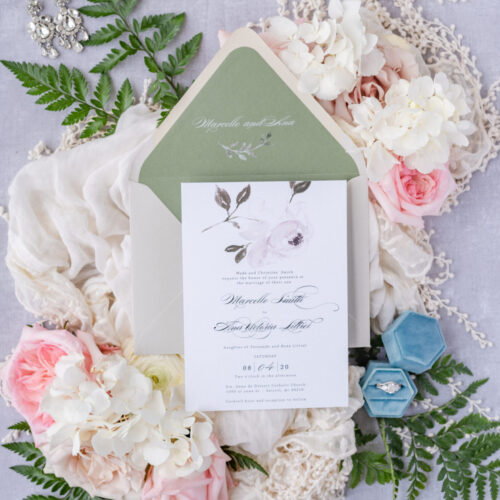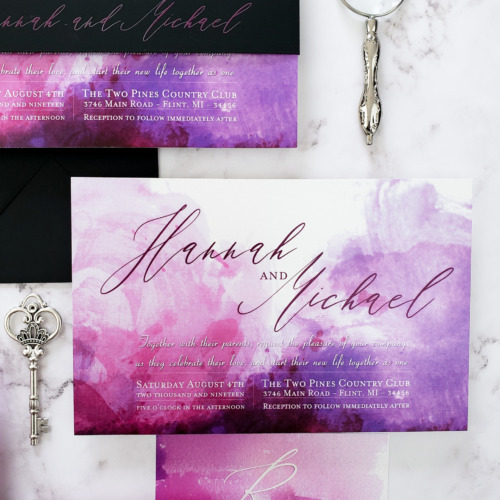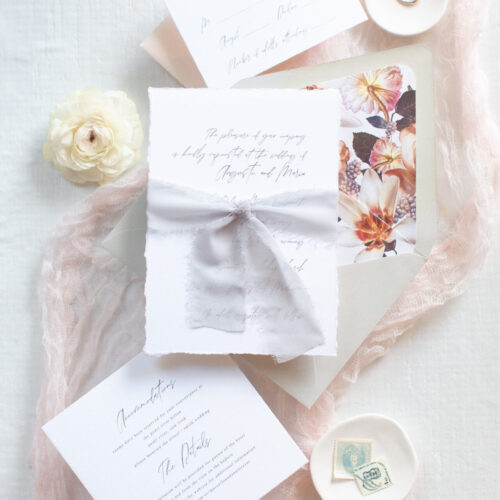 Panel cards are the most affordable choice when it comes to invitations for weddings, bridal showers, and any other events. The panels come in different sizes, our most used sizes are A7 (5″x7″), A9 (5.5″x8.5″), #10 (4″x9″) and Square (6″x6″). Our panel cards can be customized in artwork color, font color and font style, and envelope color.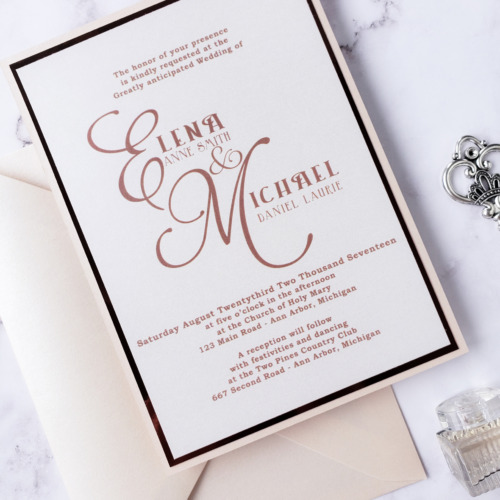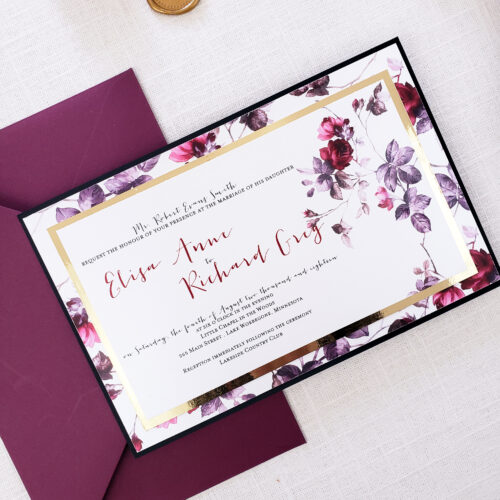 A great way to add thickness and opulency to flat cards is by layering them with one or more backers. The layers are added behind the card creating an offset that allows for the backer to show and create a beautiful frame. When choosing one of our layered cards, you can also customize the layers colors.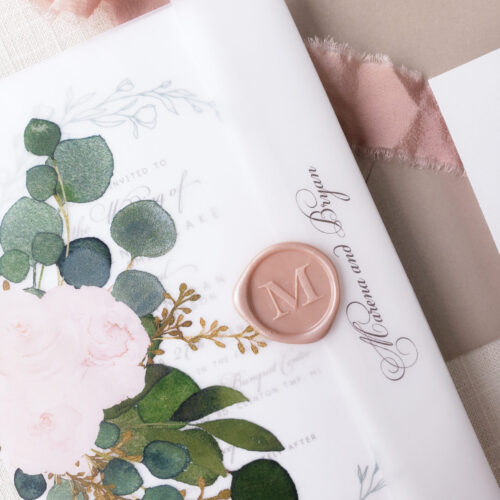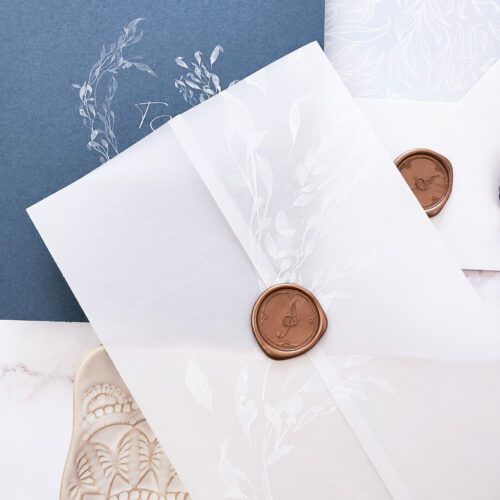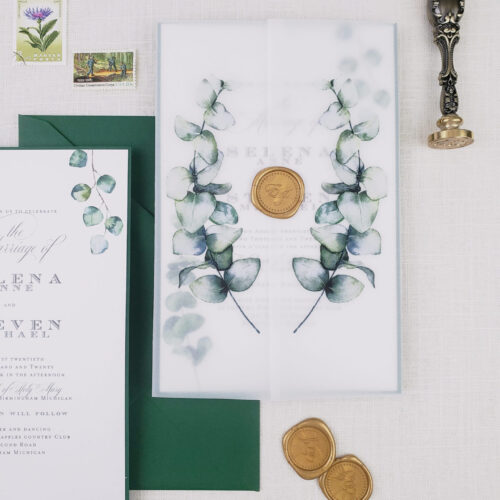 Vellum is a smooth delicate see-through paper. Modern vellum is plant-based, created with a process that extracts air from the cellulose fibers, resulting in a translucent sheet, often referred to as tracing paper or see-through paper. Vellum can be used as an overlay on invitation cards, creating a gorgeous transparency effect, or as a wrap or band that enclose the invitation card.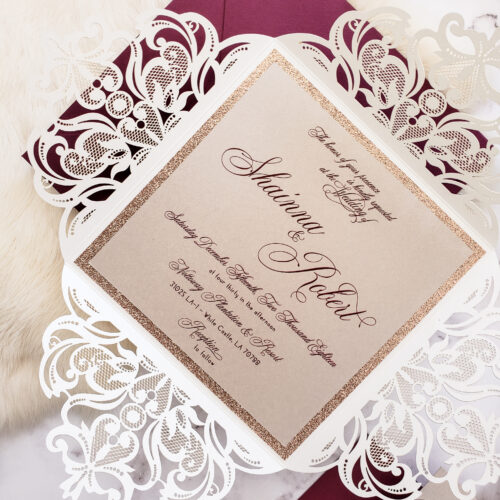 Laser cutting is a technology that uses a laser beam to create patterns and cut the paper in different unique styles. Our laser cut cards include wraps, gates and pockets that enclose our cards creating gorgeous see-through effects. When choosing a laser cut you may also customize the laser cut card color (see all colors here)
Pocket folder invitations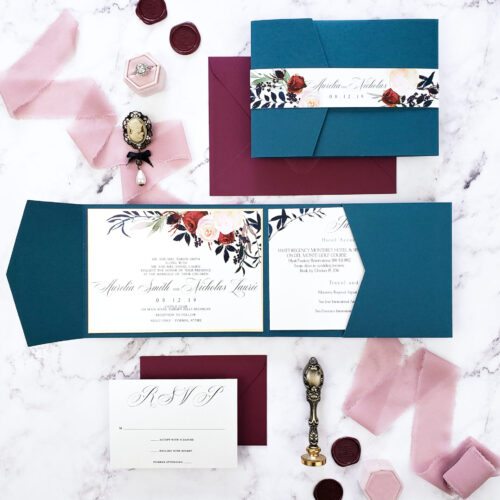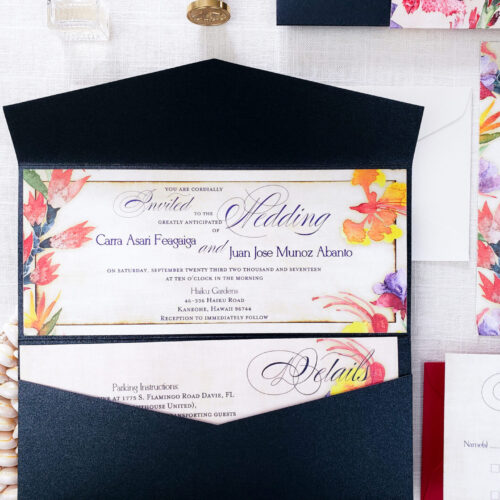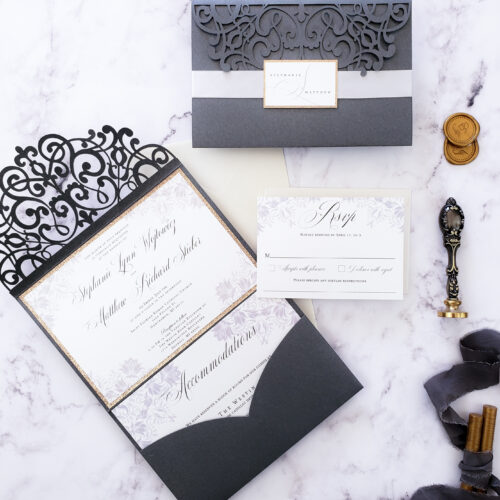 A pocket folder (also known as Presentation Folder) is a useful tool to keep your wedding suite cards organized neatly. When the wedding invitation suite includes 3 or more pieces, that is where a pocket folder really comes in handy. With 6 styles of pocket folders (see all styles here) and 2 different sizes laser cut pocket folders (5″x7″ and 6″x6″), Designed with Amore offer a large collection of pocket folders and pocket suites.
Seal and Send Invitations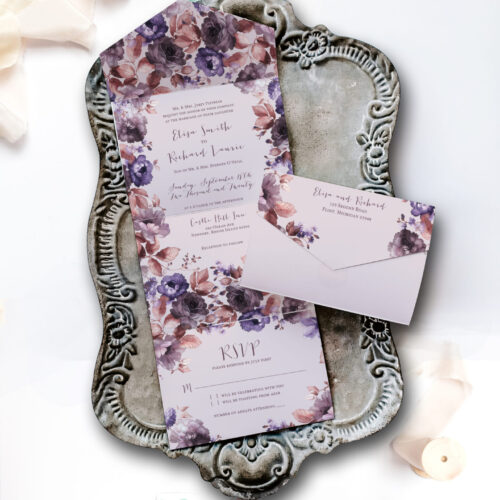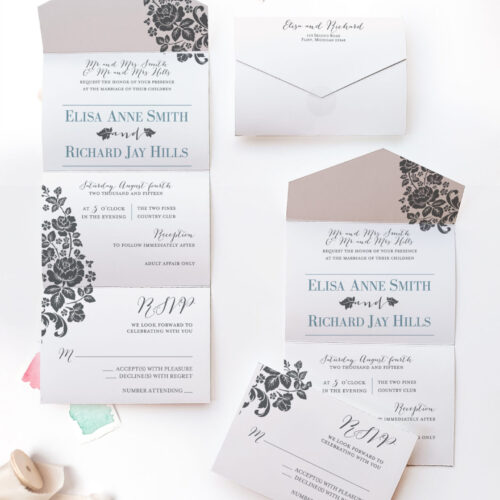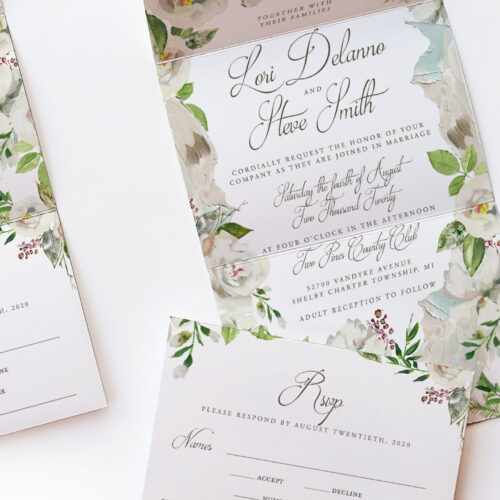 Seal and send cards are simply self-mailing invitation cards. Simply by folding the card and close it with one (or three, as recommended) clear seals, you can mail the card and the response card all in one little neat package. An envelope is not needed for the card, nor is needed for the rsvp card as that is set up as a postcard. Seal and send cards, also known as all-in-one cards, can include invitation information, insert information, and response card, and are amongst the most affordable solutions for a budget-conscious wedding.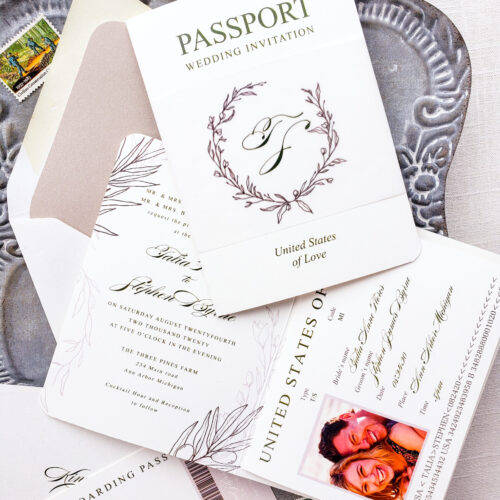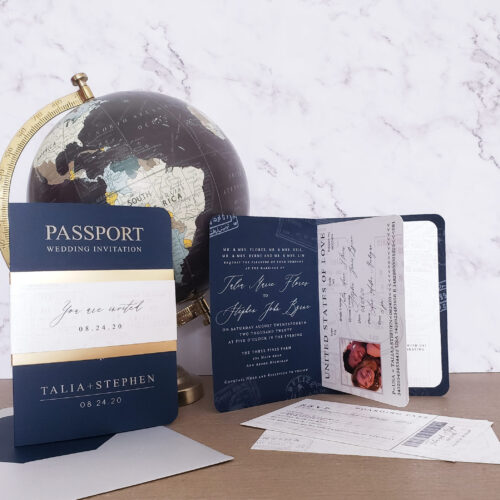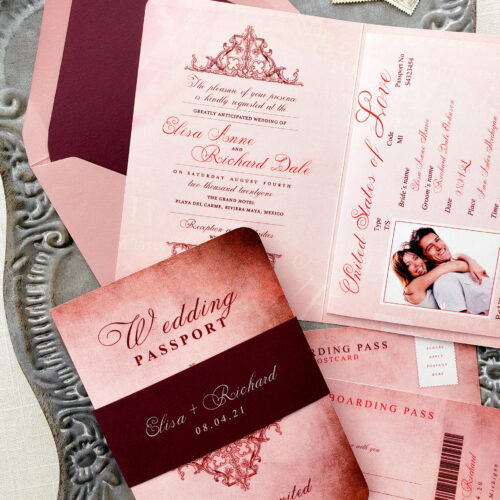 Passports invitations are with no doubt one of the most inventive, and fun way to invite your guests to a destination wedding. Get your guests excited about the event, and include all the information needed in one neat package resembling a real passport.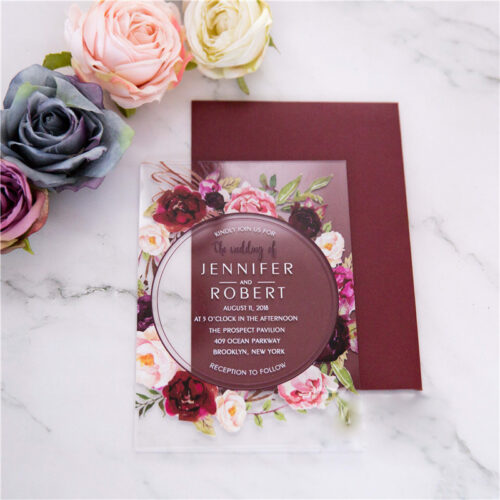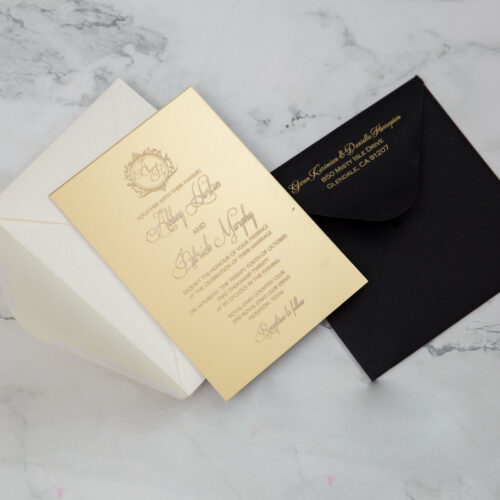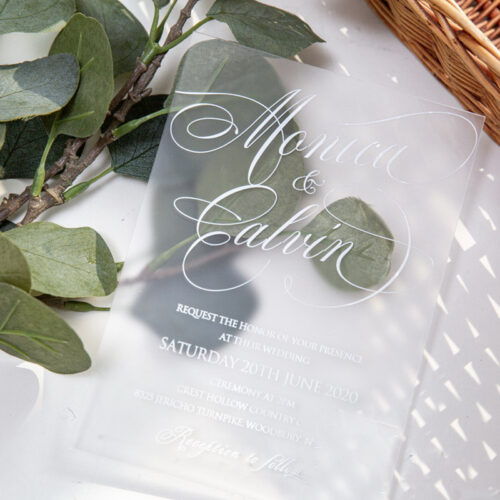 Acrylic wedding invitations are one of the most modern and chic ways to invite your guests to your wedding. Acrylic invitations are essentially plastic, versus the more traditional paper invitation, and can have various thicknesses and finishes. Normally mailed in boxes or thick-elopes, the cost for mailing acrylic invitation can be high.