Thank you so much for trusting Designed with Amore with your custom Invitations and Stationery!
We are so excited to have you on board and are looking forward to creating your perfect paper goods.
We are sure you have many questions, and we hope this welcome guide will help answering some of them. For any other question, please be assured that we will be happy to jump on a quick call if needed.
T H E  P R O C E S S 
The ordering process can be divided in 2 main phases: PROOFING and PRODUCTION. Timelines for these 2 phases depend upon a few factors, including the time of the year and the amount of changes requested.
T I M E L I N E
When it comes to send out wedding invitations, timelines are important. Our proofing and production timelines are based off the average "send out" date for invitations set at 10/11 weeks before the wedding. In order for you to receive your cards in time to send out to your guests in a timely manner, the process with us needs to be started AT LEAST 20 WEEKS BEFORE THE WEDDING.

1 . C O N T A C T  F O R M
To start an order, fill out one of our forms, in which you will define:
WORDING: you can let us know the specific wording you would like on your cards, or simply give us names and info and we will help you setting the layout. If different languages are required, please provide EXACTLY what you would want on your cards (we do not offer translations).
COLOR TWEAKS: most of our designs can be adjusted in colors
QUANTITY: quantities can be adjusted even after your proposal. Make sure to count households for invitations, rather than guests
2 . P R O P O S A L
(sent within 3 to 5 business days from your form)
A proposal / contract will be sent to you defining quantities, pricing, and details. Sign the proposal and pay the initial deposit to get the process started.
At this time we will suggest a production timeline that works with your wedding date
NOTE: based on our production time, ideally you need to start the process at least 5 months from your wedding in order for your cards to be produced with no delays.
3 . D I G I T A L    P R O O F I N G
(first proof sent 3 to 5 business days from your initial deposit; additional proofs sent 2-3 business days after changes requests are sent)
Soon after you pay your initial deposit, you will receive a brochure outlining your first digital proof. Review the brochure and let us know if any tweak or adjustment is required.
Unlimited tweaks are included in your purchase; however please keep in mind that additional changes will require additional proofing time, which may influence your timeframes.
Please include any changes you would like to see, in the brochure feedback field, we will take care of those changes and send you a new brochure. The process will repeat until you are 100% happy with your proofs.
C U S T O M I Z A T I O N
You can request to customize several aspects of our semi custom design:
C U S T O M I Z A T I O N   I N C L U D E D   I N   Y O U R   P R I C E
You can request to customize any of our semi custom design with the following:
WORDING: verbiage, font size, font style, font color
COLORS: font color, elements color (restrictions apply), artwork color tweak
These changes are included on orders over 50 pieces and do not require a graphic fee.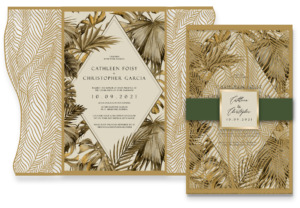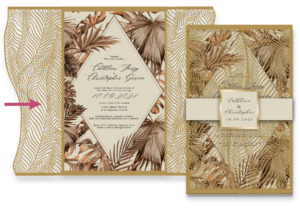 C U S T O M I Z A T I O N   R E Q U I R I N G   A   T I E R – 1   G R A P H I C   F E E :
Customizations that are allowed and require a tier-1 graphic fee ($50 to $250) are:
WORDING: orders that require 2 batches of cards with differerent wording or different language
COLORS: certain changes in colors for main elements
ARTWORK: artwork customization and placement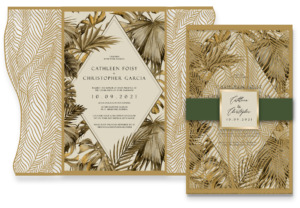 C U S T O M I Z A T I O N   R E Q U I R I N G   A   T I E R – 2   G R A P H I C   F E E :
Customizations that are allowed and require a tier-2 graphic fee ($250+) are:
LAYOUT: switch layout for invitations, keeping the same graphic elements and colors
PRINTING UPGRADES: upgrades to foil, letterpress, thermography etc.
ARTWORK: addition of custom artwork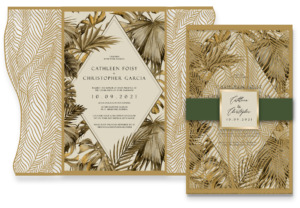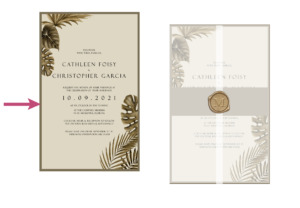 4 . R E Q U E S T I N G   A   C U S T O M   S A M P L E
Once you are happy with your digital proofing, you can request to be mailed one custom sample to review and approve. This is included on any purchase over 50 cards (or over 500$ whichever the greatest), and will be sent via usps first class mail. Production for the sample is 3 to 5 business days and shipping normally take 7 to 10 business days, so please keep that in mind when requesting a sample.
IMPORTANT NOTES:
The custom sample is NOT mailed automatically, you will need to request the copy.
Only ONE copy is included free of charge. Any extra copy will be charged accordingly.
Specialty printing processes (foil, letterpress, thermography, etc.) cannot be produced in quantity of 1, so if your order includes a specialty printing, we will do our best to send swatches of the paper you chose, along with examples of the printing process you chose, HOWEVER WE CANNOT PRODUCE ONE COPY for these orders.
5 . A P P R O V A L
Whether you decide to have a hard copy sent to you, or choose to skip that and go straight into production, once you let us know that the digital proofs look good (and once your remaining balance is fully paid), we will be sending you a FINAL CONTRACT to sign off your digital proofs for production.
This final brochure will need to be completed and sent back including your mailing address, to start the process.
At this time, if your order includes guest addressing, your guest addressing file is also required (click here to download a template)
6. P R O D U C T I O N
Once your sign off is ready, you can sit back and relax!
If you chose a SHIPPING WEEK earlier in the process, as long as the timeframes were respected, we will be mailing your order to you by that shipping week. If you did not choose a shipping week, or if for any reason you were not able to meet the timelines provided, you can expect your order to be mailed to you within 5 weeks, which is the average production time.
IMPORTANT NOTES: Sometimes due to circumstances outside our control, there might be supplies that are late or backordered; if that happens, we will be contacting you as soon as we are aware of the situation, and will do our best to suggest an alternative route.
M A I L I N G   Y O U R   I N V I T A T I O N S
Once you receive your invitations, it is now time to mail them to your guests!
1 . Make sure to put a stamp on your rsvp envelope
2 . Address your envelope to your guests: a pen with a fine tip works on most of our envelopes.
PRO-TIP: having us print your envelopes for you will save a lot of time and headaches
3 . Put postage* on your invitation envelope
4 . Put all your cards inside the envelope
5 . Bring your envelopes to the post office
*POSTAGE:
It is extremely important that your envelopes have the correct amount of postage. Not all envelopes require a forever stamp, in most cases actually you will need at least a 2-oz stamp (or a forever stamp and an "additional ounce" stamp).
We recommend bringing one envelope to your post office and have them weight it and recommend the correct amount of postage.
Don't forget international guests will require additional postage, including additional postage for the rsvp envelope!
NOW IT'S TIME TO THINK ABOUT YOUR WEDDING DAY!
As soon as you mail out your invitations, you should start thinking about any day-of stationery you might need.
Programs, menus, table cards, signage, and many other items, can be created to match your wedding invitation suite. Contact us as soon as possible to ensure your spot in our schedule.
Day-of stationery items should be approved no later than 2 weeks before the wedding.