So how much do Custom wedding Invitations cost?
The answer to this question depends on a few things: the quantity of invitations needed (don't forget only one invitation per household), the materials, printing processes, and add-ons chosen, and finally the stationer's design fee.
Due to the very different amounts of personalization that a custom design might have, our custom suites are priced on a case-by-case basis. Very much like shopping for a dress, while working on a custom design for stationery it is always a good idea to communicate your ideal budget to your stationer ahead, this will allow us to tailor our offer to what you need and what is in your ideal price range.
Generally the starting price for 100 custom wedding invitation suite is typically between $1500-$2500, this is for a beautifully custom created 3-piece suite, printed digitally on high quality cardstock, with one custom element.
Below you will find some examples of previous work, along with the prices, to give you a good estimate of what you can achieve with your specific budget.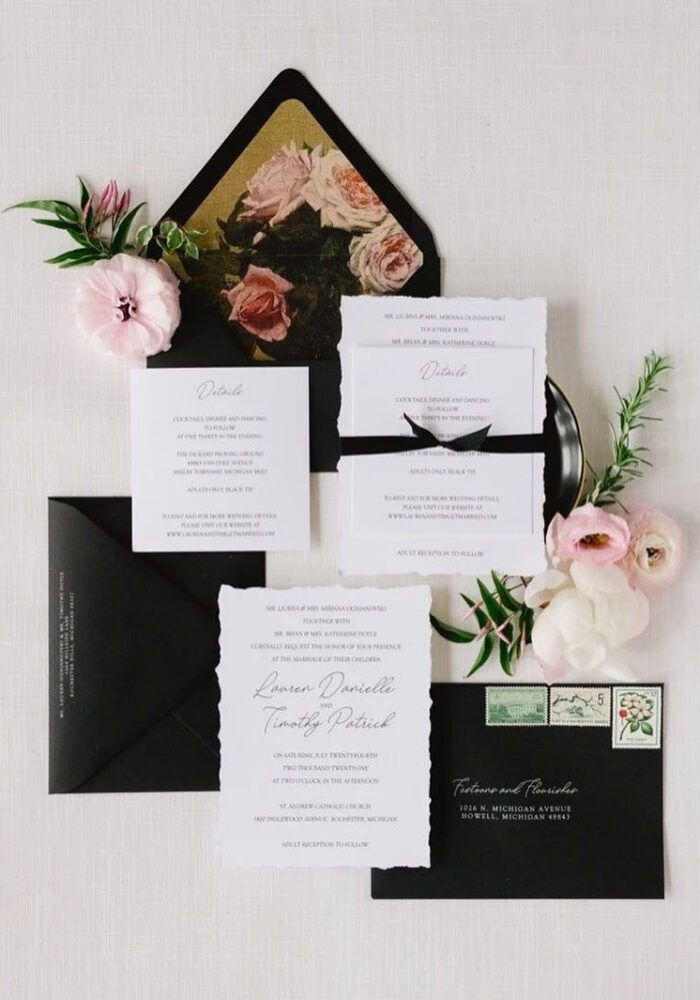 ---
Torn edge suite with custom liner and ribbon
---
Invitation 5×7 with A7 envelope
Response card 5×3.5 with A1 envelope
---
$1500 for 100 3-piece invitation suites (tax and shipping calculated separately)
---
Extra large Folio with Custom Illustration
---
Layered invitation folio 9×6 with A9 scalloped thick-elope
Response card 5×3.5 with A1 envelope
---
$2500 for 100 3-piece invitation suites (tax and shipping calculated separately)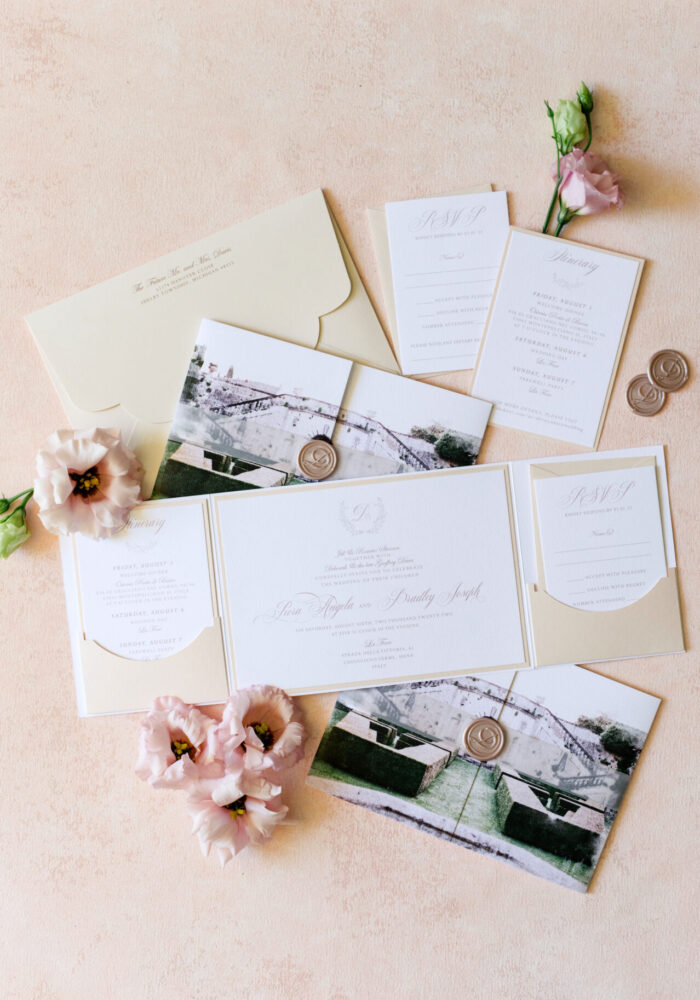 At Designed with Amore our goal is to create a stress-free environment for brides to work one-on-one with a designer to create their one-of-a-kind, wedding invitation suite. The invitation suite is a great opportunity to set the tone for the whole wedding, and to guide the artistic direction of all the other stationery pieces.
WHY CHOOSING A CUSTOM DESIGN
Work with our designers to put your unique vision in paper
Let our designers refine the nitty gritty of your design (wording, guest addressing etc.)
Your invitation will be a one-of-a-kind piece
Your invitations will coordinate perfectly with the aesthetic of your wedding
You will have the option to add elements that you wouldn't be able to add on our curated suites, such as a venue sketch or a watercolor monogram/crest
Any piece of stationery can be created as a fully custom design, including save the dates, wedding invitations, engagement invitations, birthday, baptism and christening invitations, welcome signs, table plans, menu cards and so much more.