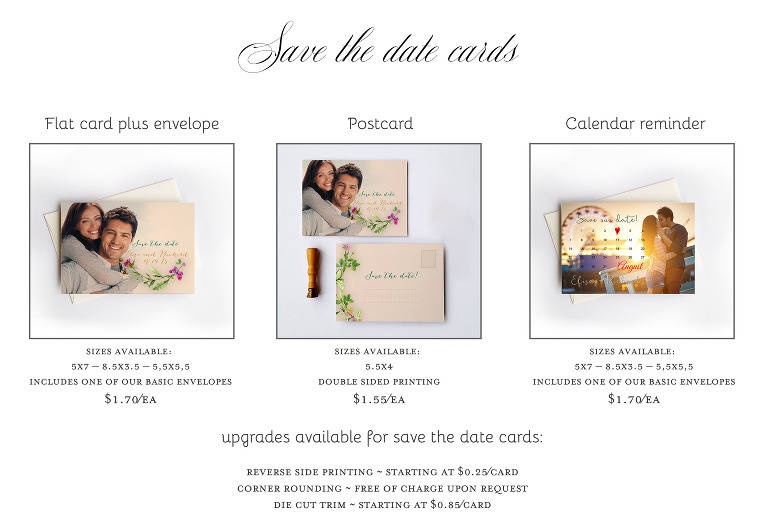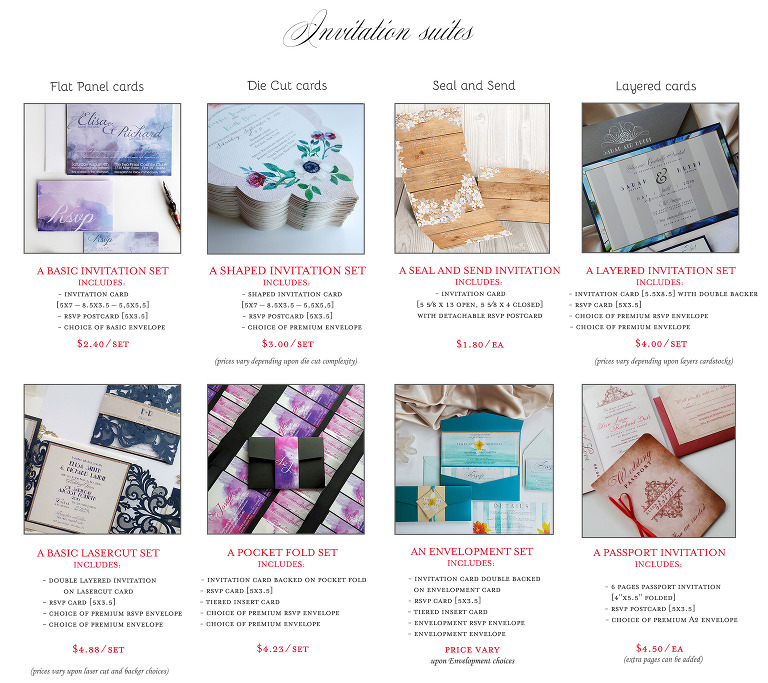 The following flat printed items can be printed on one of our card stock choices: Matte 110lb, Crystal 105lb and Linen 100lb (passports and booklets' inside pages will be printed on text weight card stock). Minimum quantity is 50 per card (lower quantities can be accommodated for an extra fee)
The following pricing are for existing design, any customization in wording and/or color Is included on the quote. Eventual real lace, burlap and embellishments will be priced separately. Pricing is in USD.
The below pricing is for Digital CMYK printing process, the chart does not include die cut, white ink printing, letterpress or foil processes.
Pricing effective as of June 2015
---
 

 

Order of service / Wedding programs

Program flat { 5×8 – 4×10 }
$2.00
[ double side printing ]
 
Program Extralarge { 8.5 x 11 }
$2.30
[ front printing ]
 
Program 4 pages folded { 5×8 – 4×10 }
$2.80
[ double side printing – scored ]

 

 

 

Trims and Finishing touches

Corner rounding
free
¼ inch corner rounding
 
Die cut
(starts at) $0.85/card
various options available.
 
Prices varies upon design complexity and card size
 
Eyelet (assembled)
$0.40
Satin ribbon or thin lace embellishment
(starts at) $0.85
[limited colors ~ price varies upon quality and measurements]
 
Fan handle (includes assembly)
(starts at) $0.65
curved wood fan handle

 

SPECIAL NOTES: Unless otherwise specified assembly is never included in the pricing (applies for backers, ribbon, belly bands etc)

 

 

 

Menus

Menu card flat { 5×7 – 3.5×8.5 }
$1.40
[ front printing ]

 

 

 

Table numbers

Table names or table numbers { 5×3.5 tent style or 5×7 flat }
$1.50
[ front printing ]

Add 0.50 for back side print

Extralarge Table names or table numbers { 5×8 }
$1.75
[ double side printing ]

Add 0.50 for back side print

 

 

Place cards / Escort cards

Plain placecard / escort card { 3.5 x 2.5 tent style – 2"x2" etc }
$0.65
[ not customized with names or tables ]
~ price variation may apply depending upon dimensions
Customized placecard / escort card { 3.5 x 2.5 tent style etc }
$1.15
[ customized with names and/or tables ]
~ price variation may apply depending upon dimensions

 

 

Seating Plan

Custom seating plan { 24×18 ~ other dimensions available}
(starts at) 70.00
[ front printing ]
~ price variation may apply depending upon dimensions

 

 

Favor tags

** please inquire for pricing **

Wishing tree tags

** please inquire for pricing **

Signage

** please inquire for pricing **

 

Thank you cards

Thank you cards flat { 5×3.5 tent style, blank inside for message }
$1.60
[ single side printing plus blank envelope ]
 
Thank you postcards { 5.5×4 }
$1.40
[ double sided printing – no envelope necessary ]
 

 

 

Wedding announcements

** please inquire for pricing **

Change of address cards

** please inquire for pricing **