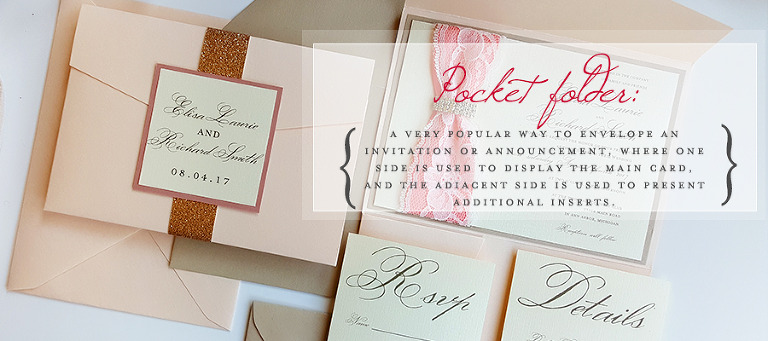 Pocket invitations are one of the most popular and most versatile way to dress up an invitation. With varieties that range from A7 to 6 inch square, in over 85 color variations, our Signature pocket folds are with no doubt one of the best choices for invitation cards.
Our Signature A7 pocket folds are 5″x7″ and fits an A7 standard envelope. On our A7 Modello pocketfold and on our Rettangolo pocketfold, the side pocket can host an insert as big as 3.5″x6.75″, whereas the A7 Vertigo can host an insert as big as 4.75″x6.75″, making it the best choice for large insert cards.
Being our most popular product, the A7 Modello was developed in several variation where the front flap and the side flap are ornate to find the best possible model to fit your style.
---
| | | |
| --- | --- | --- |
| Panel Pockets | Pocket Fold A7 Modello | Pocket Fold A7 Vertigo |
| | | |
| Price starts at $1.00/ea {not assembled} | Price starts at $1.30/ea {not assembled} | Price starts at $1.30/ea {not assembled} |
| --- | --- | --- |
| Pocket fold A7 Rettangolo | Pocket fold square Perfetto | Pocket frame |
| | | |
| Price starts at $1.30/ea {not assembled} | Price starts at $1.30/ea {not assembled} | Price starts at $1.90/ea {not assembled} |
| --- | --- | --- |
| | | |
| Pocketfold A7 ~ Angled | Pocketfold A7 ~ Ornate | Pocketfold A7 ~ Curve |
| | | |
| Price starts at $1.60/ea {not assembled} | Price starts at $1.60/ea {not assembled} | Price starts at $1.60/ea {not assembled} |
| --- | --- | --- |
| Pocket fold A7 ~ Wave | Pocket fold A7 ~ Straight | Pocket fold A7 ~ Lace lasercut |
| | | |
| Price starts at $1.60/ea {not assembled} | Price starts at $1.60/ea {not assembled} | Price starts at $3.00/ea {not assembled} |
---
Our signature pocketfolds are available in the following Color choices:
Matte color choices: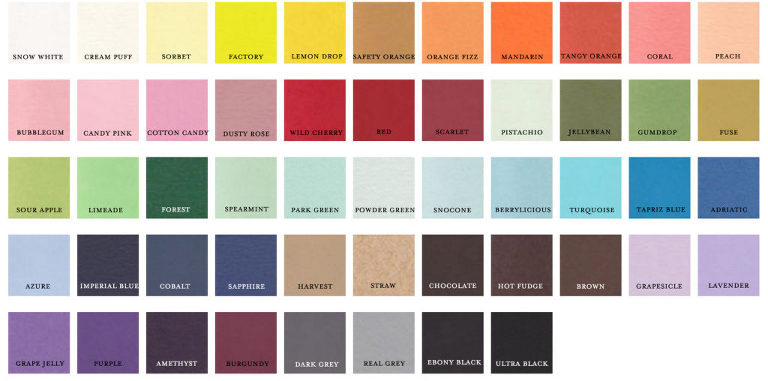 Shimmery/Metallic color choices: