Most of our clients are not only out of state, but more than often from out of country! We have been helping couples online since 2012 and throughout the years we have refined the way our process works.
Communication with our clients is our first priority. Most of the communication, especially in regards to any alteration request, will be done via email. Phone meetings can also be requested, and appointments at our studio are always welcomed!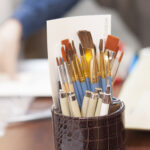 Step 1 (recommended)
Purchase a sample of the design that you love.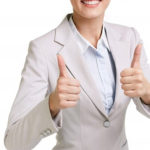 Step 4
Once we have your (unofficial) approval, we will send an invoice (via Paypal invoice). Once that is paid, you can choose to:
have a custom copy mailed to you to approve
approve your proofs digitally
In either case, a contract will be sent (if a hard copy is sent, the contract will be sent after receipt), sign the contract off to start production of your cards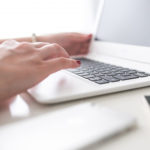 Step 2
Once you decide the design you would like to start from, fill out and submit the relative customization form. One of our designers will contact you with first proofs within 3 business days. Not sure where to start? Feel free to email us and we will be happy to help!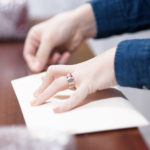 Step 5
Once your contract is signed and the balance is fully paid off, we will start production of your cards. Production time varies upon the time of the year, and can range from 8 to 12 (or more) business days. Always inquire ahead of time if you are in a rush (rush processing is an often an option, but can incur an extra fee)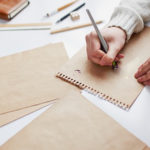 Step 3
Review your digital proofs (sent via email) and reply with any alteration request you may need. And don't worry about changing your mind a few times, we will be working on your proofs until you are 100% happy with them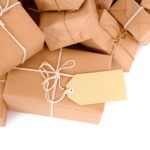 Step 6
Once your cards are ready they will be shipped to the address provided!
Please note that unless otherwise specified, our suites do not come assembled or enveloped. For any question please inquire